The Corporation of Sunderland decided that the Athenaeum was unable to house the collections of the museum, and built a larger library and museum in the Extension Park. The image below shows the museum in 1901, with the flag at half mast to mark the death of Queen Victoria.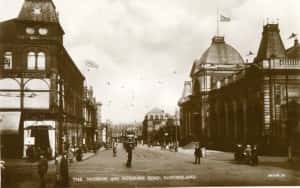 Image courtesy of Sunderland Antiquarian Society.
The United States President Ulysses S. Grant laid the foundations stone on 24 September 1877, during his tour of Britain.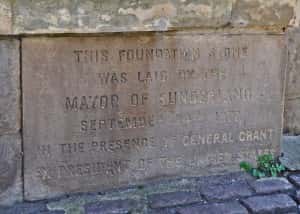 Photograph courtesy of Colin Smith.
The museum opened in November 1879. The library and natural history collections were on the ground floor, and the antiquities and art gallery on the first floor. The Winter Garden is the glass structure at the back of the building, which when opened featured exotic plants and birds, with goldfish in the pond. The original Winter Garden was based on Caxton's design for Crystal Palace in London. This was destroyed in a bombing raid in 1941, the same raid that destroyed Victoria Hall. The Winter Garden design showcased the glassmaking heritage of Sunderland.  This had been established in 1696 when the Sunderland Company of Glassmakers opened their works in Bishopwearmouth Panns, just below the current railway bridge. James and John Hartley continued this tradition in the 19th century when they opened their Wear Glassworks just off Hylton Road.  There, they pioneered the manufacture of rolled plate glass, and supplied much of the glass used in the construction of Crystal Palace as well as the Winter Garden in Sunderland.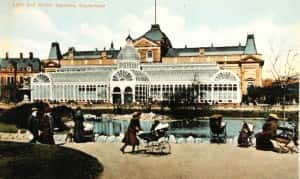 Image courtesy of Sunderland Antiquarian Society.
This image shows the original Winter Garden from the side of the pond. The old Gas Offices building on the corner of Fawcett Street is visible to the left.
The new Winter Garden was opened in 2001.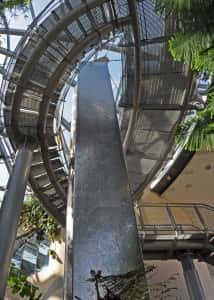 Photograph courtesy of Colin Smith.
The museum contains a large collection of paintings by L.S. Lowry who, from 1960, made Sunderland his second home. In addition to this, there are rich holdings in local history, natural history, and a wide range of glass and pottery made on Wearside.