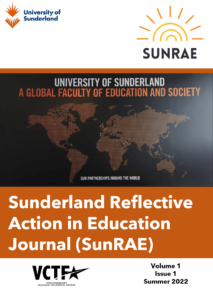 We are delighted to announce that the first issue of the SunRAE journal, devoted to the conference proceedings from our 2022 conference, has now been published over on the journal platform.
Anyone within our community who is interested in converting their assignment work into an article for our journal should review the Call for Papers as this will give clear instructions. You will need to make an account on the journal site in order to submit.
Submissions are welcomed and will be queued for peer review and publication.
Volume 2 is scheduled for Winter 2022 and will contain the submissions made during the 2021-2022 academic year.