Making the most of BoB!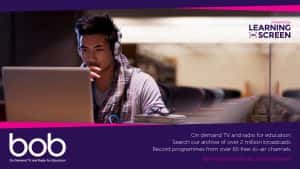 Now is the time to make the most of BoB, otherwise known as Box of Broadcasts.
This resource is an on-demand television and radio service that the University of Sunderland's Library Services has subscribed to. This means our staff and students have access to BoB's archive and also have the ability to record upcoming programs from over 65 free-to-air channels from the UK and beyond.
Grayson Perry, one of Britain's leading artists, is on a mission to bring together the nation through out. Check out his Monday evening programme, Grayson's Art Club, at 8pm on Channel 4. Worried you'll miss the next episode? Go into Bob now, and click on 'request this programme' to be alerted to when the recording is available for you to watch.
On BBC4 Mark Gatis recently explored the life and career of Audrey Beardsley (30th March 2020).
…. and lots, and lots more!
We have lots of hints and tips as to how to view or listen to programmes, quote in your assignments and for academics how to embed programmes into your Canvas modules.