What do students need to read?
Assessment criteria in module guides states that to get grades in the 2:1 region students need to use a range of information sources.
As a student you will read a variety of sources including books/ebooks, academic journal articles, newspapers, statistics, reports, images, government information. One of the ways you can use critical thinking to help you is asking questions to decide what type of information you need. Not all sources of information are the same and you won't use them all for the same reasons. Deciding what sources of information to use can save you lots of time and will mean you only read the things you need to.
Let's start by looking at a few of the sources of information you may use during your studies: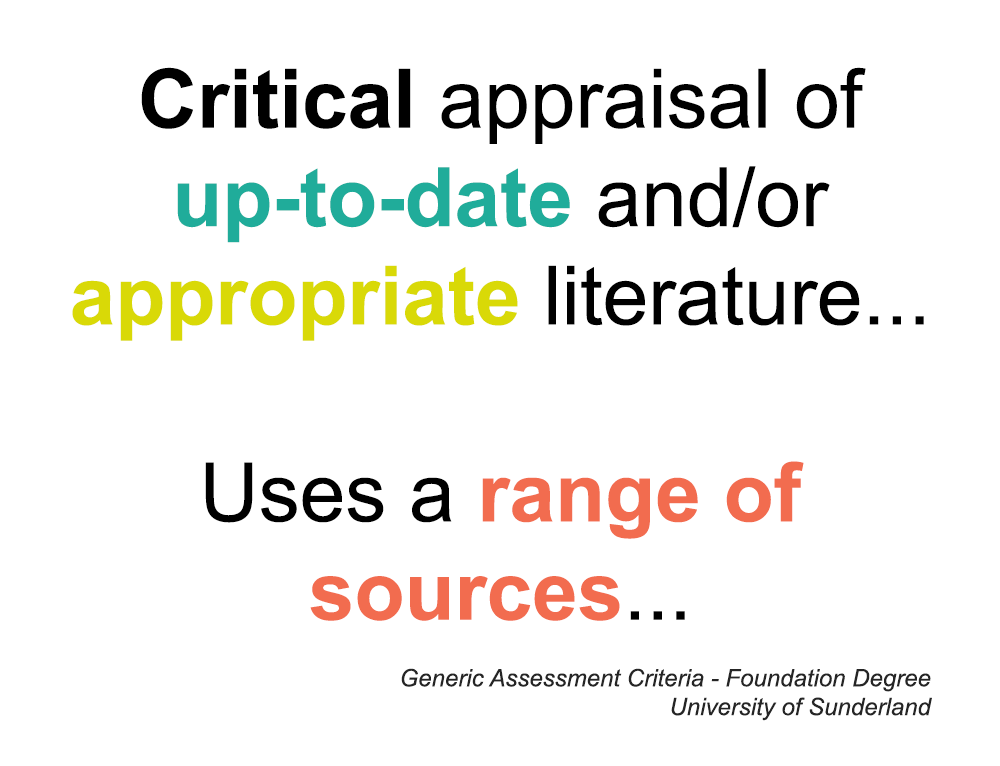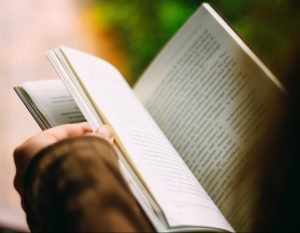 Books (and ebooks) make great starting points. Your lecturers will usually recommend books to you in your reading list because they provide an in depth overview of a subject. They are a great way of learning more about a new topic. They will often compare and summarise different ideas or theories.
Books are often updated and published in new editions. In most cases it is best to use the most recent edition you can find, however University of Sunderland often keep some previous editions where they are still relevant. Sometimes the new editions do not include major changes and you will still benefit from using a previous edition.
Keep in mind: it can take a long time for books to be published so may become out of date – especially in disciplines where there are lots of rapid changes.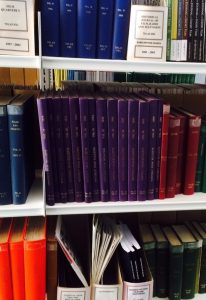 Academic journals are like magazines for academic research. Issues of journals are published regularly and, though any number of issues might appear in a year, all the issues published in a particular year will be assigned a volume number. Some academic journals are published more frequently than others so may have more issues. They can be available in print or electronic, although at Sunderland most of our journals are now electronic.
When researchers test out theories or undertake research they will often publish the results as a journal article within an academic journal. Sometimes journal articles are actually discussions or reviews of existing research.
Keep in mind: some academic journals are peer reviewed ( judged by a panel of experts before publication), but not all are. They can be more up-to-date than books as they are published more quickly but they are best when you already have a good understanding of your topic and want to learn more about recent research.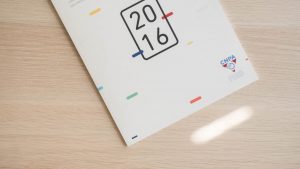 Reports may be published by companies, agencies and departments on specific topics or to address particular issues. Examples may be reports issued by the government, professional bodies, or charitable organisations.
Keep in mind: Not all reports are published. They may be written in reaction to a particular issue or event so can become out of date.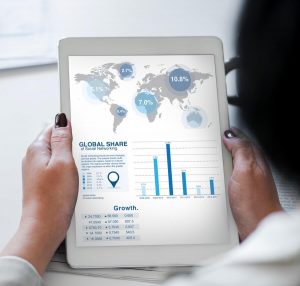 Statistics may be published by the government, market research companies or researchers. Sometimes statistics may be accompanied by analysis. Statistics can be used as supporting data in your assignments – they may be used to support or refute assertions.
Keep in mind: Not all data is published. Organisations may have a specific reason for collecting data, but it may not give the whole picture. Methods of collecting data can also vary and may influence usefulness or reliability.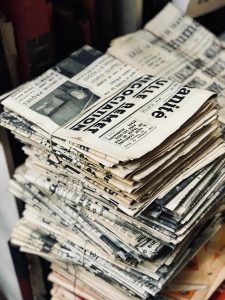 Newspapers are good sources of commentary on current topics. They are opinion pieces but may include eyewitness accounts.
Keep in mind: Newspaper articles, although edited do not always go through accuracy checks or peer review. There is often bias if the newspaper has a particular agenda for example a political point of view. Sometimes newspapers are sensationalist and may not provide references.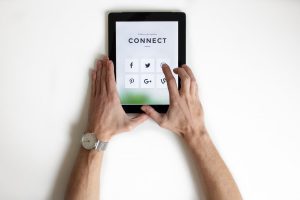 There are web pages about most topics you could think of, but most of them will not be academic in nature, and are unlikely to be written by subject experts.  Some websites can be useful though, for example a company web page, an online dictionary or a blog by a known and verified subject expert.
Keep in mind: Anyone can publish a website and website owners can delete a website whenever they wish. The content may be biased or even untrue and can become out of date quickly.