The Lancet Regional Health
The Lancet Regional Health is a new collection of open access medical journals publishing high-quality original research, focusing on clinical practice and health policy in six regions of the world.
To date 3 of the 6 regions are available with plans to launch Africa, Eastern Mediterranean and Southeast Asia in the near future.
The current available titles publish monthly and previous volumes are searchable in the digital archive.
Click on any of the images above to take you to directly to the Journal homepage where you will be able to explore the current issue and view the archive.
The journals are also available from the Library homepage https://library.sunderland.ac.uk/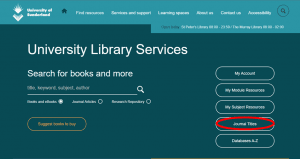 Click on Journal Titles and search for Lancet Regional Health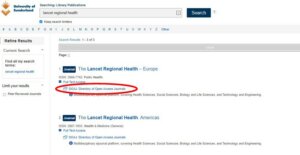 Select DOAJ: Directory of Open Access Journals from underneath the title you are interested in
If you need any further help with accessing journal titles or searching for journal articles please get in touch via Library Chat or email at library@sunderland.ac.uk