'A way with words' exhibition – Celebrating the 25th anniversary of the Calligraphy and Lettering Arts Society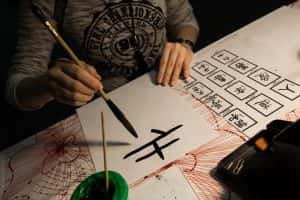 Come along to the Priestman Galley to see the Calligraphy and Lettering Arts Society (CLAS) travelling exhibition at University of Sunderland between 8 March and 2 April. The Gallery will be open 10am – 5pm on weekdays.
A Way With Words features almost 100 pieces of work showcasing the best of contemporary calligraphy and lettering arts.
It has been curated by world-renowned calligrapher, Dr Manny Ling, who is also programme leader for MA Design at the University of Sunderland.
Two of his pieces will be shown alongside a range of works by 56 calligraphers from around the world, representing the diverse and international range of CLAS members' work.
Further information and images can be found on Creative Calligraphy's web site.
[Text sourced from Creative Calligraphy with permission]