ClinicalKey Student: Nursing and Midwifery
The University Library has recently extended its subscription to ClinicalKey Student to include the Nursing and Midwifery package.
ClinicalKey Student is an interactive platform that provides access to hundreds of key textbooks, a library of video resources and images, and study tools to enhance teaching and learning.
To access the full database click on the Database Search button on the Library homepage and enter ClinicalKey (select ClinicalKey Nursing) or go to the Books and eBooks tab on the key resources page for Pharmacy, Nursing and Health Sciences.
Log in with your University ID and password when prompted.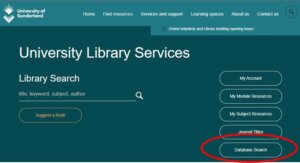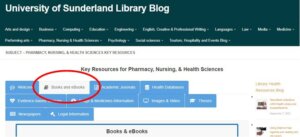 All of the eBooks included in our subscription with ClinicalKey are also discoverable in the Library catalogue.
The Nursing and Midwifery textbooks cover over 35 subject specialties from Anatomy to Research and Evidence Based Practice, here are some examples of the key texts available:
Full instructions on how to make the most of ClinicalKey are included in the video below. It highlights setting up a personal account, searching and browsing the database, exporting images for using in your work and how to set ClinicalKey up on a mobile device using the app.
If you need any further help with accessing ClinicalKey Student or any of our other databases please get in touch via Library Chat or email at library@sunderland.ac.uk