Creative Lives 8th February – Nicola Singh
The School of Art and Design Creative Lives' presentations highlight how creative graduates across the field of art and design work, live and thrive in the arts and creative industries. These artists will be speaking about their career journey and projects they are currently involved with.
The talks are open to all students and staff in the Faculty of Arts and Creative Industries, and the general public. There's no need to book individual places, just come along on the day. The talks will run 4.00-5.00pm every Tuesday from 1st February to 5th April 2022.
Tuesday 8th February – Nicola Singh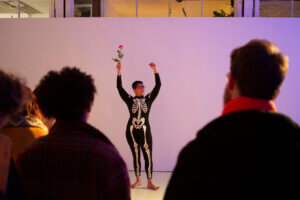 Nicola's practice encompasses solo and collaborative performance, film, photography and sculptural installation. Her approach is rooted in performance and she extends ideas of liveness to her visual art, pedagogic and research practices. She creates work in response to what's going on with her a.k.a in response to the politics of her subjective lived experience – and via a critical engagement with contemporary art's relationship to race and feminism.
Selected forthcoming projects include a 'resource commission' for Cinenova FEMINIST FILM + VIDEO, a new performance for Quench Gallery (Margate, UK) and a residency at La Bonne Women and Girls Centre (Barcelona, Spain) as part of the 'Contested Desires' programme with D6: Culture In Transit (Newcastle, UK). Nicola is Senior Lecturer in Fine Art and Curation at Manchester School of Art, Manchester Metropolitan University and has a practice-based PhD 'On The Thesis By Performance: a feminist research method for the practice-based PhD' Northumbria University (2017).
Please join us for this session via this Teams link.
More details about this programme of speakers and dates are available online.