Database Trial for Hospitality, Events, Aviation & Tourism – CABI Leisure and Tourism
During February, University Library Services are trialing a new database called CABI Leisure Tourism which includes ebooks and journals for Hospitality, Events, Aviation and Tourism. We want to make sure what we subscribe to is useful to you and relevant to your studies so we need your feedback to help us decide whether we should purchase it.
We will be trialing this resource from 1st-28th February 2022.  CABI Leisure Tourism will be available on campus without the need to login. Off campus you will need to login with your University User ID and password.
Below are some instructions on how to log into CABI Leisure Tourism if you are off campus.
Go to https://www.cabi.org/leisuretourism  and click the login link.
Choose to login via your institution and search for the University of Sunderland
Login with your University of Sunderland User ID and password.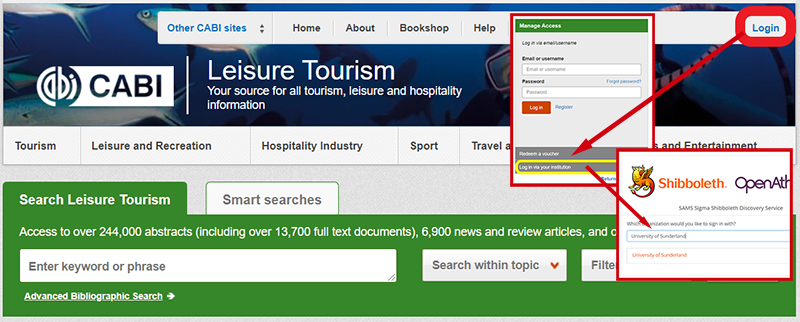 We are also considering purchasing
CABI Tourism case studies
. We can't set up a trial for that but you can go onto the site and explore some sample case studies and search brief information about the case studies that are available.