Full text searching tips when testing out the CABI Leisure and Tourism database
You can access the CABI Leisure and Tourism database throughout all of February while we trial it and we want you to search it for book chapters and journal articles on the topics you are studying/teaching and let us know what you think.
CABI provides a lot different types of content – there are full text books, chapters and journal articles but also titles where you can only see the abstract.  In this blog we're focusing on how to find the full text sources but you might find the other content really useful too – keep in mind if you find something where only the abstract is available, and it's not available through any of our other subscriptions you can request it via interlibrary loan.
Tip 1: Search the full text content by choosing to filter your search and choosing:
CABI Book (Subscribed)
CABI Book Chapter
CABI Hosted Full Text
Start by entering your keywords, add your filters and search. We've shared a screenshot of what this would look like using the keyword 'heritage'.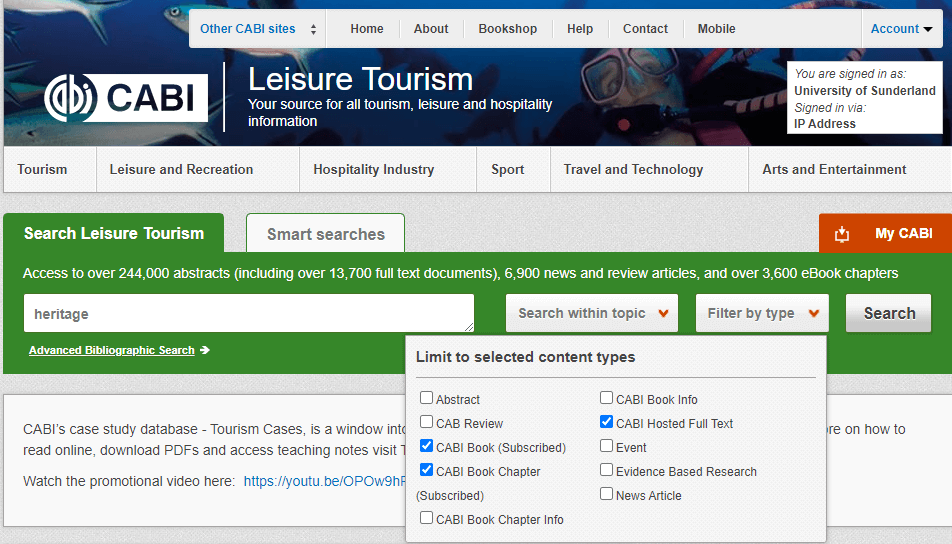 Tip 2: Browse by topic  – you can still filter & view full text
You can browse by topic  – the topics are 'Tourism, Hospitality Industry, Sport, Travel and Technology and Arts and Entertainment'. When you choose a topic you will see a selection of recent sources – you can still select to view full text as highlighted below and the filters on the right of the screen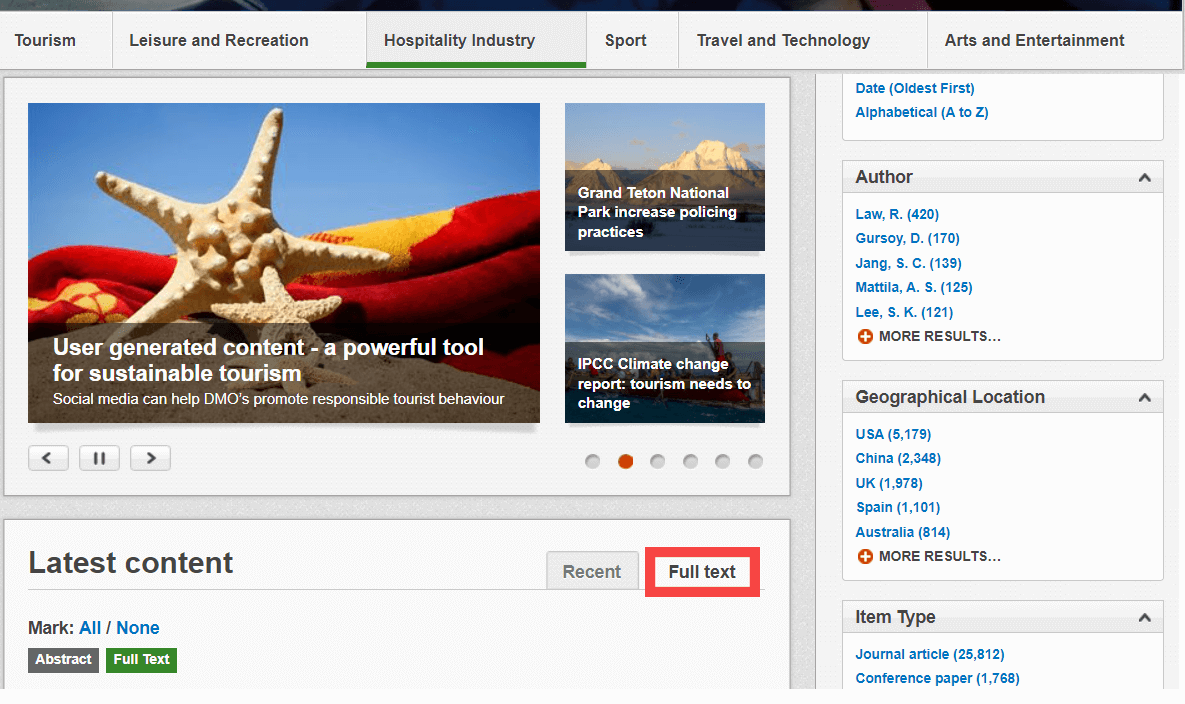 Tip 3: Use Smart Searches
Smart searches are commonly looked for topics – when you select a smart search, good keywords for that search will used in the search box – in the example below choosing the 'Tourism responses to crisis' smart search uses the following keywords automatically – de:tourism AND ("crisis response" OR "crisis management").
In this example de:tourism looks for the word tourism in the descriptor field, using quotation marks around "crisis response" and "Crisis Management" tells the system they are phrases, and using OR widens the search when two words mean roughly the same thing – your results will have one or the other in – it doesn't have to be both keywords.

Once you've had a look at the CABI database tell us what you thought of it using the feedback form – did you find some useful things? Was it easy to use etc?. If you've got any questions about CABI while you're using it get in touch with the Tourism Librarian Leanne via Library Talk.