Seeking experiences from arts, design and performing arts students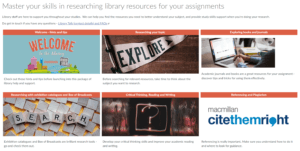 If you're currently studying an art, design or performing arts programme with us here at the university, this academic year you may have come across some 'library packages' that have been created for you.
Let Suzie know your experiences in using the library packages!
They live within Canvas module areas (the specific ones will depend on which programme you are studying) and have been created by Suzie, your Academic Liaison Librarian. They are a collection of hints and tips to give you additional support during this academic year whilst you've been doing a lot of your studying away from campus due to Covid.
The packages or toolkits have slightly different names depending on which year of study you are in, but here is a sample screenshot of what they look like.
Suzie is reviewing content of these toolkits as part of planning for next academic year.
Questions you could ask yourself are:
What do you think of the toolkits/packages?
Do you like or dislike them, and why?
Is there anything missing you'd like to see added in?
Any other comments?
As always, Suzie would love to hear what you think, whether you are studying with us, or if you're a member of our academic team – just send Suzie a message to suzie.williams@sunderland.ac.uk. If you haven't explored these resources yet, Suzie can let you know which Canvas space to find the package for your programme and level of study.