Spotlight on Sustainable Tourism Resources
Sustainability is a topic that is relevant to all areas of tourism, events and hospitality. Whether you're studying hotels or restaurants as part of the hospitality industry, are interested in gastronomy or are researching tourism development you will find that sustainability is a thread that weaves through many areas.
In today's blog post we're going to share a few examples of information resources where sustainable tourism intersects with other topics such as human resource management, gastronomy, urban tourism.
Hopefully these resources will give you some ideas for your own information searches:
What is Discover?
Discover is what we call the search tool you use to find journal articles. When you type your keywords into the search box on the library web page and choose to search journals you will be taken to Discover. You may also hear it be called Library Search but they are the same thing.
You'll find loads more articles on Discover…
These are just a few example articles about sustainability from two journals, but you'll find loads more on Discover. The screenshot below gives an example of how many results you get with just a few keywords: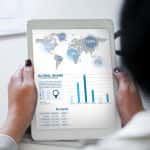 The struggle for Sustainable Tourism Development (Briefing Feb 2017 & Video Apr 2017)
This briefing on the Euromonitor Passport databasee considers climate change and sustainability in the tourism and lodging industries.
You can access Euromonitor Passport via the Library web page (just find it in the Databases A-Z)
The UN website for Sustainable Development of Tourism collates their work and the committees and networks leading initiatives. You will find information and relevant documentation on relevant areas such as tourism and climate change, ecotourism, tourism development and tourist travel.
Visit the Sustainable Development of Tourism website  https://sdt.unwto.org/
The UNWTO publish books and reports on a range of tourism topics and publish many of them for free. Some recent UNWTO  reports include:
The library have collected the free online publications, and the print copies we have purchased into one list which you can browse and even filter using tags:
https://moduleresources.sunderland.ac.uk/#/list?course_identifier=TOUWTO
Not sure what other types of information you might find? Take a look at the Key Resources pages which can point you in the right direction.