Calligraphic work of Manny Ling – now online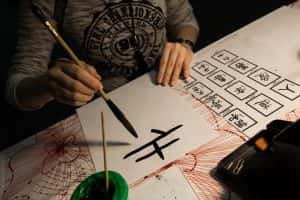 Many of our design students will have been taught by Manny Ling, one of our excellent lecturers. Manny has recently left the university to teach in Vietnam, and he will be missed very much.
In anticipation of the Chinese New Year and the Lunar New Year (Tet) in Vietnam, Manny has made his publication "Crossing Boundaries" available to view via Issu.
This is a brilliant publication by Manny – it accompanied Manny's solo exhibition 'Crossing Boundaries' at the Hong Kong University of Science and Technology in April 2018. It is a beautiful piece of work and we encourage you to go and explore it.