Transforming Prospect building – Access to collections and additional support during the refurbishment works
While the transformation of Prospect building takes place there will be changes to how to access some of our collections.
From Monday 11 June until the works are completed:
There will no longer be assisted-access through the top level –  the temporary riverside entrance will be the only way in (for all building users)

There will no longer be access to the lift (for all building users)

Anyone able to use stairs will need to access the collections via the spiral staircases and the walkway between IT Suite 1 and the upper level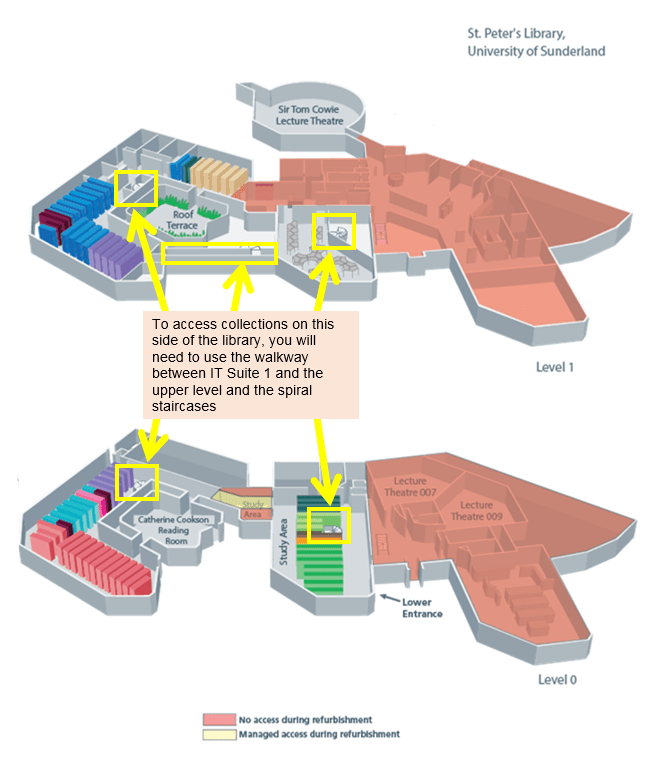 Additional support is available for anyone with mobility impairment during the refurbishment works. Library staff will be able to assist with:
collecting any resources required from sections 000-371.999 during staffed hours (access to the upper level will be by stairs only)

managed access through the lower level 3 times per day from 9am-4pm Monday to Friday (collections 372- 699)

retrieving any items you wish to borrow from either floor during staffed hours in advance for you – please let us know by contacting us before your visit

searching for resources using our library website

using printers and photocopiers

finding a free PC on the lower level – access to IT Suite 1 will be by stairs only however, PCs, Macs, black and white and colour printing is available on the lower level
Please contact a member of library staff within the Prospect building on 0191 515 3318 and we will meet you wherever you are within the building to assist you through or around areas affected by the refurbishment work.
If driving, the quickest access route for mobility impaired users is to use the University carpark next to the National Glass Centre and then follow the path along the riverside (as this area is paved):
Look out for further updates on our library main communication channels and Library Talk frequently asked questions as the building work progresses between now and September 2018.
For further info on the support services we provide for students with disabilities please see https://library.sunderland.ac.uk/services-and-support/disability-support/ or contact us anytime using our 24 hour enquiry service Library Talk