Find Law print textbooks in the library using the shelfmark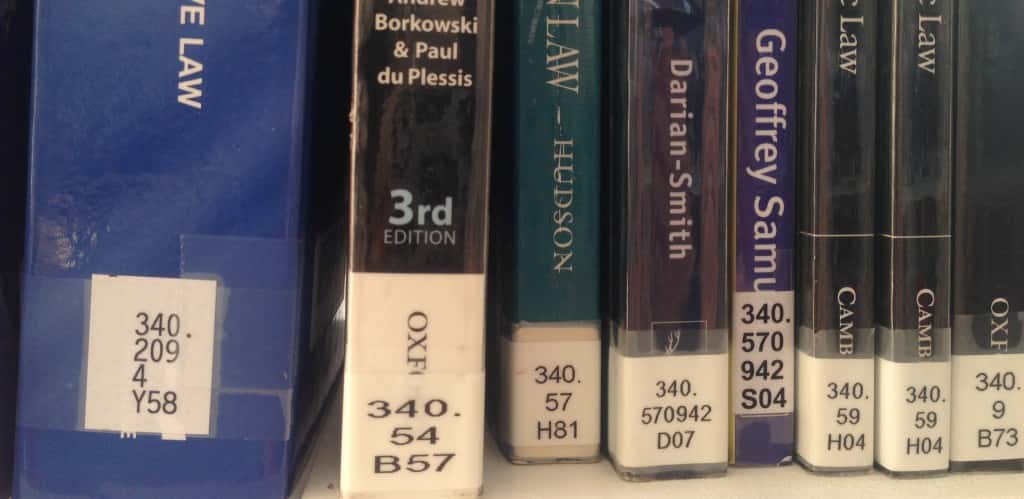 Dewey Decimal Classification (DDC) is the classification system we use to arrange books on our library shelves by subject.
DDC gives each subject area a number and these are displayed on spine labels on the books (shelfmarks). The books are then shelved in number order.
When you know the author or title of a book you can search for it on Library Search, find out it's shelfmark, and then locate it on the library shelf.  You can also use shelfmarks to browse books in a particular subject area, and you do this by knowing the DDC number for the subject you're researching.
Here are the numbers that we use for some of the main areas in Law (but remember this is just a guide and you'll need to check Library Search for your particular subject area):
| | |
| --- | --- |
| 340.07 | Legal skills |
| 340.1 | Philosophy and theory of law |
| 341 | International law |
| 341.242 | European Union law |
| 342 | Public and constitutional law |
| 342.42085 | Human rights law |
| 345.42 | Criminal law (England and Wales) |
| 346.42015 | Family law |
| 346.4202 | Contract law |
| 346.4203 | Tort |
| 346.42043 | Land law |
| 346.42048 | Intellectual property law |
| 346.4205 | Equity and trusts |
| 346.42052 | Succession |
| 346.42066 | Company law |
| 346.4207 | Commercial law |