Creative Lives talks – 20th April – Bridget Harvey
Our School of Art and Design Creative Lives talks offer many examples of how creative professionals live, work and thrive in the arts and creative industries. You will gain an insight into the creative process and career routes through a series of talks from local and nationally-renowned practitioners at different career stages, many of whom are University of Sunderland alumni. You'll hear from artists, designers, makers, photographers, curators, filmmakers, and much more.
These workshops are open to all students in the Faculty of Arts and Creative Industries, and the general public. There's no need to book individual places, just come along on the day.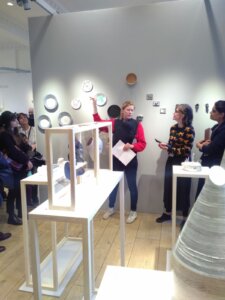 Tuesday 20th April – Bridget Harvey
Bridget Harvey uses making to ask critical questions, generating new understanding and adding meaning through craft. Investigating processes and concepts through making: she asks what we make, how we make it, and why that matters.
Harvey embraces interdisciplinarity, using found objects and materials like fired ceramics, wood, and textiles. Through artefacts she examines ideas like pace, repetition, and playfulness. Since 2013 she has focused on repair within multiple disciplines, and as independent practice.
As Victoria and Albert Museum Artist in Residence 2018/19,  she examined the relationship of repair to conservation through artefacts, a publication and exhibition. She has completed a practice-based PhD, Repair-Making: Craft, Narratives, Activism.
Practice commissions include A Jumper to Lend (2014) (Textile Toolbox touring exhibition), Sides to Middle (Nature of Mending, 2016, Bridport Arts Centre). Her writing is published in Ephemera Journal (2019), A Narrative of Progress: The Camberwell ILEA Collection (2018) and The Department of Repair (2015) catalogues.
Her work has been acquired by the V&A and the Camberwell ILEA College.
Please join us via this link – Click here to join the meeting
More details about the artist and the rest of the 10 week programme of speakers and dates are available online.