Dance, Movement and spiritualities – latest issue released
Expand your reading!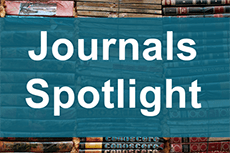 The latest issue of the journal 'Dance, Movement and Spiritualities' has been released. Volume 5, Issue 1 (July 2018)  contains the following articles:
Image, imagination and the social imaginary: Solo improvisational dances of North Africa and the Middle East – Barbara Sellers-Young
Talking to tremors: Somatics in dance, dialogics and silence – Sondra Fraleigh
Shamanic striptease – Mark James Hamilton
Be still and know: Authentic Movement, witness and embodied testimony – Christopher-Rasheem McMillan
From expressions to ecstasy: Understanding the phenomenon of experiential interaction between the performer and audience in dance – Shashi Kiran Reddy And Contzen Pereira
Let the bird fly: Somatic practice and Sufi hadra performance, the embodied experience – Jamila Rodrigues
'No mind': A Zen Buddhist perspective on embodied consciousness – Aska Sakuta
If you'd like to read any of these articles, you can request them free through our inter-library loan service.