Call for papers – Body, space and technology journal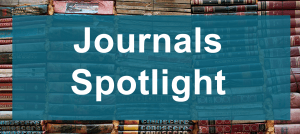 Are you keen to get your research published? 'Body, Space and Technology' is now in its eighteenth year of publication, and a call for submissions for the next issue is now open. The deadline for paper proposal is 21st September and finalised material by 22nd October. If you wish to submit perspectives, reviews and performance proposals, the deadline is 1st October with finalised material due by 22nd October. Publication of this issue will be in January 2019.
This publication is a leading journal of contemporary artistic practice and research. It has a strong reputation for scholarly quality and innovation, as well as fostering a global academic community around its published content. The journal publishes research into artistic practice that engages with digital technologies, particularly those that relate to bodily interaction and creativity, and in multi-disciplinary perspectives.
Body, Space and Technology is an open access journal, which means you don't need a subscription to read it – so if you haven't come across it before, go and look at the current issue. Readers are invited to be stimulated by the journal and it is hoped that this encourages submissions that will surprise and perhaps even lead to unexpected instances of research and creativity.
[Information sourced by the Body, Space and Technology web site]