World Autism Awareness Week 2018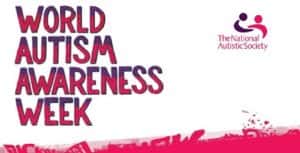 World Autism Awareness Week this year is 26th March until 2nd April.
This is a week of fundraising activities and events to help raise money and awareness on autism. As prospective teachers and students of education, you will have direct access to students in a learning environment. Learning about autism in fun and imaginative ways at school will help spread the word about why it's important to understand and challenge perceptions.
The National Autistic Society has a wealth of autism resources for you to use as teachers, and offers lots of helpful tips and practical advice.
Click here for more information and guidance as professionals/teachers
There are plenty of things you can do to help raise awareness of autism within schools. You can sign up at The National Autistic Society  and receive downloadable lesson plans and resources, as well as a fundraising guide packed full of fun ideas and activities. There are also free downloadable resources on the website, available here.
Below are some resources where you can find further information on autism available in the library, and some examples of journal articles and journals about SEND you can find on Discover.
Click here for Department of Education policy on Special Educational Needs and Disability (SEND)
Awareness and knowledge of autism and autism interventions: A general population survey by Karola Dillenburger et al, in Research in Autism Spectrum Disorders, December 2013, 7:12, pp. 1558-1567.
The design and implementation of a CBT-based intervention for sensory processing difficulties in adolescents on the autism spectrum by Louise Edginton, Vivian Hill and Elizabeth Pellicano, in Research in Developmental Disabilities, December 2016, 59, pp.221-233.
British Journal of Special Education (Full Text access through Professional Development Collection from 1998 to Present, with a 1 year delay).
The SENCO Survival Guide: The Nuts and Bolts of Everything You Need to Know by Sylvia Edwards. Second edition published 2016 and available as an ebook. Read online by logging in with your user id and password.
Teaching Children & Young People with Special Educational Needs & Disabilities by Sarah Martin-Denham. Available at St. Peter's Library, shelfmark: 371.9/M07
Provision Mapping and the SEND Code : Making it Work in Primary, Secondary and Special Schools by Anne Massey. Available as an ebook. Read online by logging in with your user id and password.
Meeting Special Educational Needs in Secondary Classrooms: Inclusion and How To Do It by Sue Briggs. Available at St. Peter's library, shelfmark 371.9046/B73, and available to read online as an ebook. Log in with your user id and password.
Use the library catalogue and Discover to locate further books, ebooks and journal articles on autism and special educational needs.