Get the most out of your library service: Holiday reads with a health focus
Do you enjoy reading as a pleasure pastime?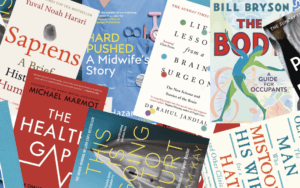 Have you thought about including books written either by health professionals, or that are health-related? I thought I'd do a bit of rooting round on the web to find some good reads. Below are websites for you to find more. Many are available in the library as ebook or in print and we have a range of Graphic Novels on health-related subjects too.
The list of titles available via the library is here: https://moduleresources.sunderland.ac.uk/#/list/26711
If there are books you'd like us to buy use the "Suggest A Book" button on the library home page.
Here's some links to some book you might like to try – Happy Holidays!