Using Zotero to help organise your reading and cite papers
Did you know that there are tools that you can use to help you manage the resources you are reading and can also assist with referencing in your assignments? One free tool that we recommend is Zotero.

"Zotero is a free, easy-to-use tool to help you collect, organize, cite, and share your research sources."(1)
You can save anything you read to your Zotero library, create folders to organise your reading, and download a Word and Google Docs plugin that will help you to generate bibliographies from items you've saved in your library.
We also recommend downloading the Zotero capture tool plugin for your browser as that enables you to very easily capture the details of books, journals, websites, news articles and more.
Download Zotero
You can download Zotero at https://www.zotero.org/
1. Click on 'Download Now' and download the latest version of Zotero – choose the correct download for your platform. Follow any installation instructions.
2. We recommend you also download the Zotero connector for the browser you use as this makes capturing references in many databases significantly quicker and easier.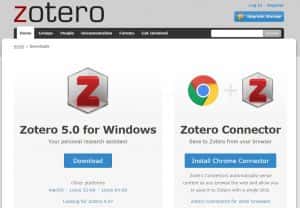 Add webpages into Zotero
When you are on web pages with content you would like to capture, you can use your browser connector. NB: this will depend on the quality of metadata in the webpage.
Example: When on the NICE Evidence Search, or other website you will see a little note icon. Click on this and the metadata from the web page will be added to your Zotero library.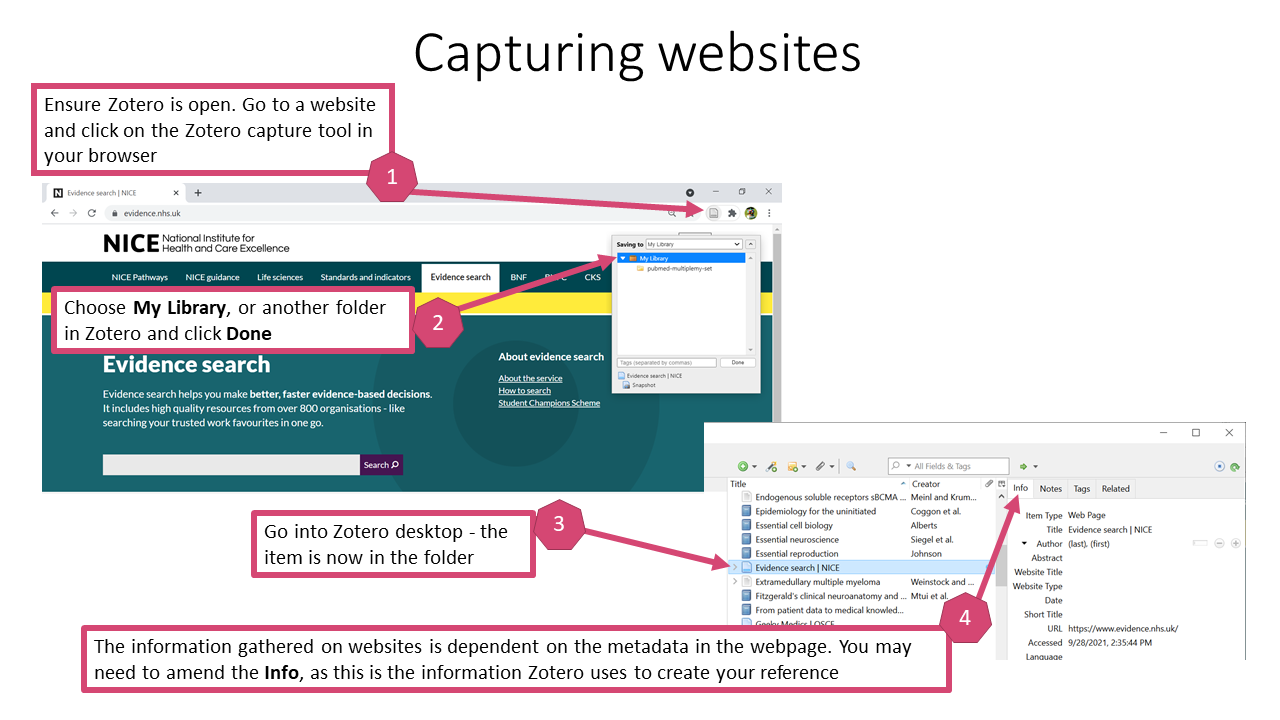 Add items from the Library Catalogue into Zotero
Add items from the Library Search into Zotero
Add items from PubMed into Zotero
Add items from Google Scholar into Zotero
Add citations into your Word documents using Zotero
Create a Bibliography
If you're running Zotero 5.0 or Zotero Standalone 4.0, the word processor plugins are bundled with Zotero and should be installed automatically for each installed word processor when you first start Zotero.
When you open your Word Processor you should see a ribbon for Zotero (for editing references see the next section).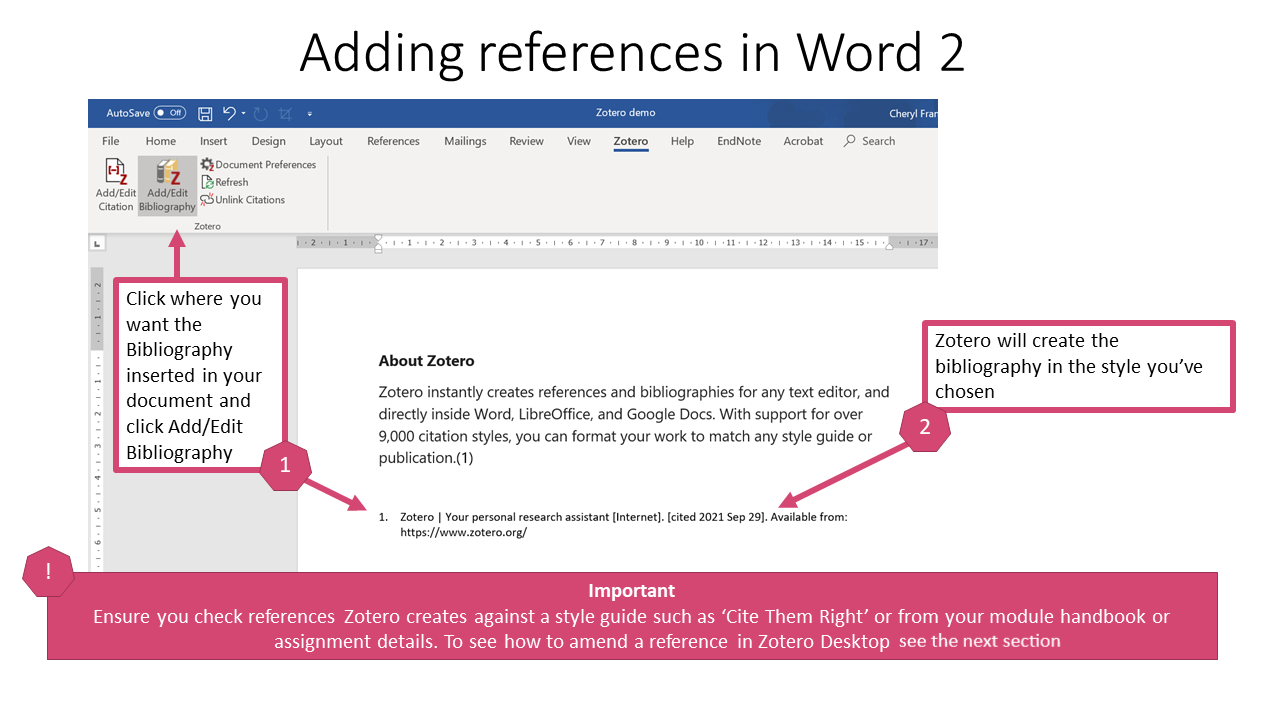 Editing references in Zotero
Here's an example of a reference that needs editing. Do your editing in Zotero rather than the Word document as this is the permanent way to ensure your references are correct. Changing your references in Word whilst the document is still linked to Zotero is not effective as the edited reference will reset to the original version every time you add a new reference.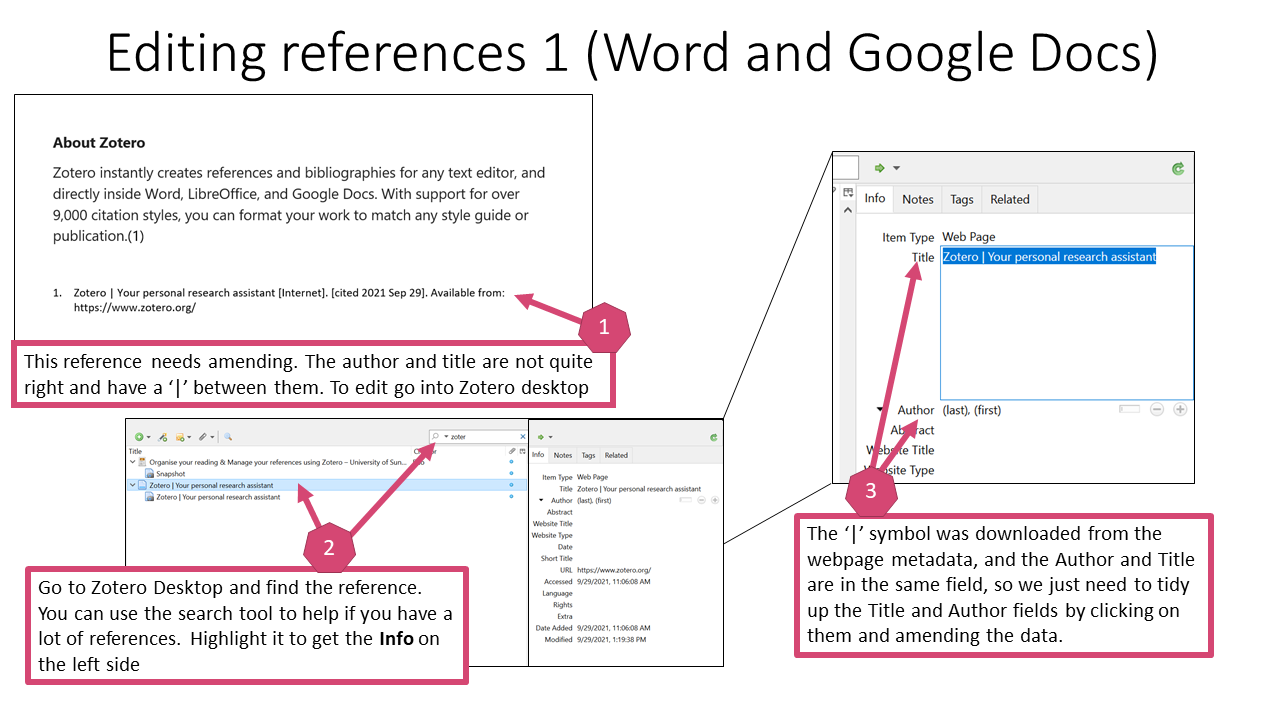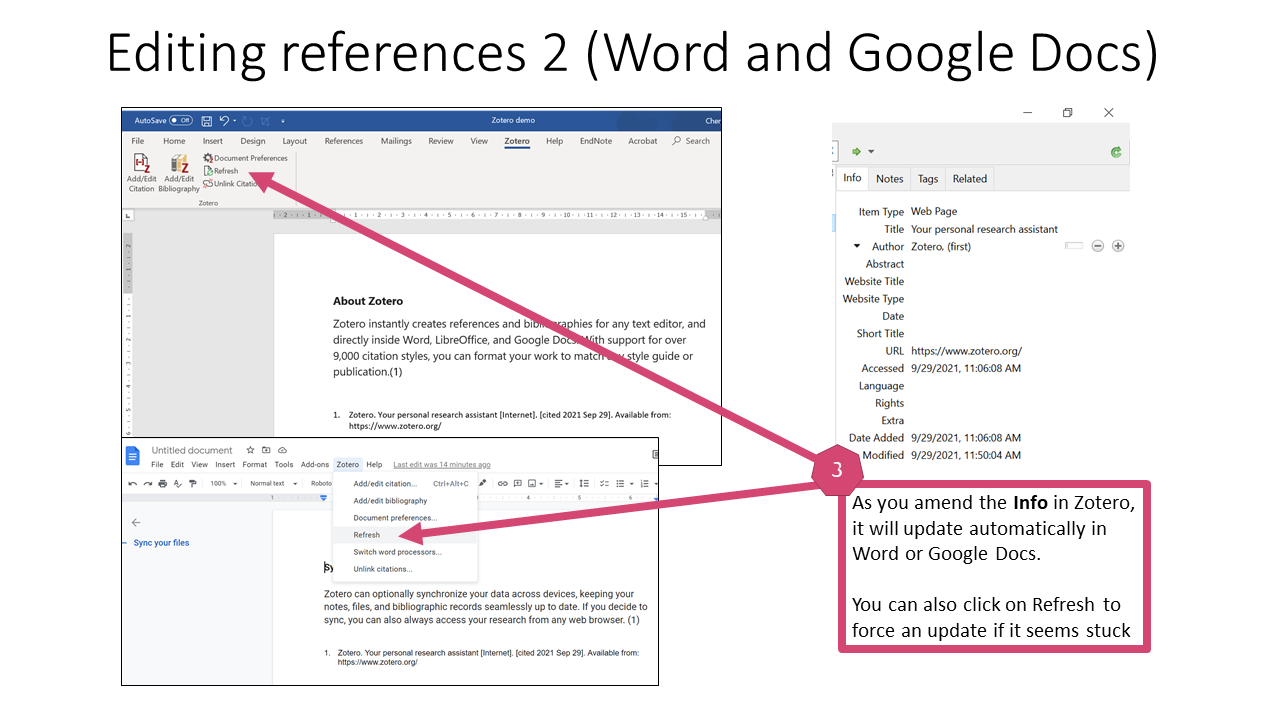 You can also view the Zotero playlist
Zotero. Your personal research assistant. [Online]. No date [cited 2021 Oct 06 ] Available from: https://www.zotero.org/