Creative Lives 15th February – Jo Manousis
The School of Art and Design Creative Lives' presentations highlight how creative graduates across the field of art and design work, live and thrive in the arts and creative industries. These artists will be speaking about their career journey and projects they are currently involved with.
The talks are open to all students and staff in the Faculty of Arts and Creative Industries, and the general public. There's no need to book individual places, just come along on the day. The talks will run every Tuesday 4.00-5.00pm from 1st February to 5th April 2022.
Tuesday 15th February – Jo Manousis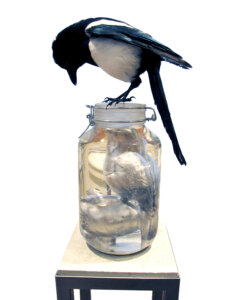 Joanna is a British artist working in glass and mixed media. Her work has been recognised with nominations for the Louis Comfort Tiffany Foundation Award and a Bombay Sapphire Award Nomination for 'Excellence in Glass' as well as the Margaret M. Mead Award and the Hans Godo Frabel Award.
Joanna has received support from internationally recognised residency programmes including the Glass Pavilion at the Toledo Museum of Art, Ohio; the Museum of Arts and Design, New York; the Corning Museum of Glass, New York; and Cité Internationale des Arts, Paris, France. Her work has been exhibited at Design Miami and Art Basel, Basel, Switzerland; FOG Art + Design, San Francisco; the Glasmuseet Ebeltoft, Ebeltoft, Denmark and the British Glass Biennale, Stourbridge, England.
Joanna is currently studying a practice-based PhD at The National Glass Centre through the University of Sunderland. She holds a MFA in Sculpture from Alfred University, New York, and a BA in Fine Art Glass from The University of Wolverhampton, England. Joanna has worked, studied, and taught in Japan, the United Kingdom, the United States and Australia.
Please join us for this session via this Teams link.
More details about this 10 week programme of speakers and dates are available online.