Welcome to New Hospitality, Events, Aviation & Tourism undergraduates!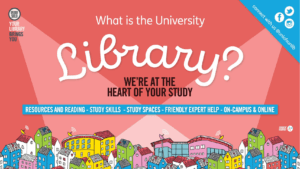 Welcome to new Hospitality, Events, Aviation & Tourism students! You can use the Library on campus or online from wherever you are. You'll be meeting your Librarian in early October as part of TLH123, but over the next couple of weeks you might want to familiarise yourself with the Library so take a look at the Library Essentials.
Library essentials includes videos as well as library tours or short sessions on the basics – whether you have questions about printing or connecting to the wifi, or you want to learn how to borrow books there is a Library essentials session that you can sign up for or a video you can watch.
Got a Library question?
You can ask Library staff a question online – use the 24/7 Chatbox from the Library web page. If you're in the Library and need some help, send us a chat and a member of staff will come to help you.