Summer Reads for Medicine Students
We know many of you enjoy reading as a pleasure pastime during the summer break.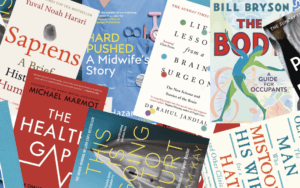 Have you thought about including books written either by doctors, or that are medicine-related? Of course, you might want a break from the subject for a while, but in case not we thought we'd do a bit of rooting round on the web to find some good reads. Below are websites for you to find more. Some are available in the library as ebook or in print. Or whilst your on back in your home town you could join your local library?
Are there books you'd like us to buy? Use the "Suggest A Book" button under the search box on the library home page.
Here's some links – Happy Summer!