Health Information Week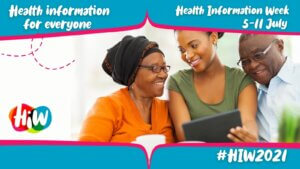 It's Health Information Week from 5-11 July 2021 so why not celebrate the week by browsing through our eBooks in Health and Social Care?  We have added to the collection published from 2016 to date?
Here are some of the topics that Health Information Week this year is focusing on:
Health Information for Children and Young People  – the Anna Freud Centre has a handy Coronavirus Support page with links to help young people, parents, carers, schools and the early years.
"Oh I don't know what to believe…" – looks at critical thinking and there are two useful books which will assist you in debunking confusion around statistics and concepts;  Bad Science by Ben Goodacre and Learning From Data: the Art of Statistics by David Spiegelhalter .
Digital Health – take a look a the NHS Apps Library which includes free apps you can download to help with health and wellbeing which have been assessed to National Health Service standards. You can filter the apps list by topic.
Don't forget to  visit the Key Subject Resources Health and Social Care page for more sources of health and social care information.