Getting the Latest eJournal Articles
Are you in the process of doing eJournal searches for your research project or dissertation? Alerts can save you time so you don't have to keep running your searches time and time again.
You can do this easily by running a search from the Library Search Box then clicking on Share once you've got your eJournal article results. You can choose how frequently you receive the alerts. The help page Creating an Alert from the Search Screen takes you through the steps of how to do this as does the YouTube video Creating an Alert on Ebscohost.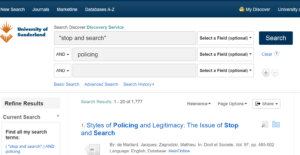 If you're studying Criminology, Professional Policing or Social Work (BA Hons, Integrated Degree Apprenticeship or MA) you are likely to be using the eJournals on the HeinOnline Law Journal Library. You can set up a Table of Contents (TOC) Alert so you can read the newest articles and you don't miss your favourite journal material. You need to create a My HeinOnline Account to take advantage of this. The e-TOC Alerts in HeinOnline video on YouTube explains how to set up an account and create an alert for the contents lists.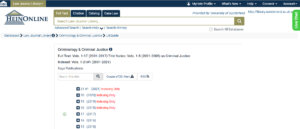 You can also set up a journal alert on Library Search so you know when the latest copy of your favourite eJournal is available and you can get a list of the contents by selecting the option. These alerts are useful for general current awareness too.
If you're studying for a masters or a PhD then you might want to go further and use Zetoc to set up alerts to  over 30 000 journal contents and conference papers of JournalTOCs. Watch the video on Zetoc on our blog post.