Creative Lives talks: 23rd February – Rosalind Faram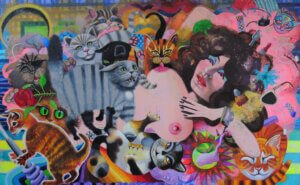 Our School of Art and Design Creative Lives talks offer many examples of how creative professionals live, work and thrive in the arts and creative industries. You will gain an insight into the creative process and career routes through a series of talks from local and nationally-renowned practitioners at different career stages, many of whom are University of Sunderland alumni. You'll hear from artists, designers, makers, photographers, curators, filmmakers, and much more.
These workshops are open to all students in the Faculty of Arts and Creative Industries, and the general public. There's no need to book individual places, just come along on the day.
Tuesday 23rd February 4.00pm – Rosalind Faram
Rosalind Faram is an artist based in Sussex, UK. She is an alumnus of Chelsea College of Art, London and winner of the BEEP 2020 Contemporary International Painting Prize. Her dynamic paintings are informed by a wide-ranging research into visual culture, that can include anything from Giotto to 1970's sweet wrappers and Muppets characters, to present day emojis, fashion culture and more. Her practice is led by a passion for ways of enquiry into painterly representation, conjuring tableaux that seduce and repel in turns; deconstructing her subjects, playing with surface and creating spaces of uncertain dimensions.
Please join us via this link – Click here to join the meeting
More details about the artist and the rest of the 10 week programme of speakers and dates are available online.