Creative Lives talks: 2nd February – Anthony Amoako Attah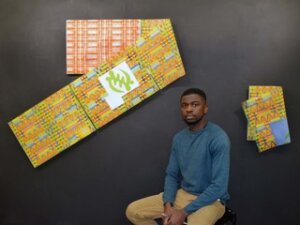 Our School of Art and Design Creative Lives talks offer many examples of how creative professionals live, work and thrive in the arts and creative industries. You will gain an insight into the creative process and career routes through a series of talks from local and nationally-renowned practitioners at different career stages, many of whom are University of Sunderland alumni. You'll hear from artists, designers, makers, photographers, curators, filmmakers, and much more.
These workshops are open to all students in the Faculty of Arts and Creative Industries, and the general public. There's no need to book individual places, just come along on the day.
Tuesday 2nd February 4.00pm – Anthony Amoako Attah
Anthony is a current PhD research student at the University of Sunderland Glass Department. Unlike many contemporary glass artists, Amoako Attah is primarily self-taught. His work focuses on migration, integration, dislocation and life chances. Anthony put his traditional Kente designs and Adinkra symbols on glass through printing of glass powders and enamels through kiln forming techniques making the glass looks like a woven or printed fabric.
Please join us via this link – Click here to join the meeting
More details about the artist and the rest of the 10 week programme of speakers and dates are available online.