American Chemical Society Subscription
The University Library subscribes to the American Chemical Society (ACS) database of publications.
Students and staff  have full access to over 60 journal titles covering all aspects of chemistry and its application.

To access ACS click on Databases A-Z from the library homepage  then select ACS publications or American Chemical Society from the list. You will need to log in with your University ID and password.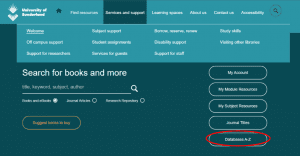 Once you are logged in search for articles across all publications by topic or keyword. Alternatively you may browse the available publications by grid view, list view or by subject area.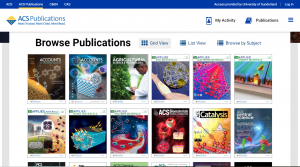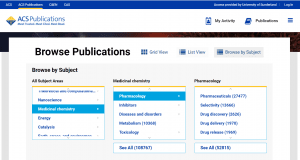 Students studying Biochemistry, Biopharmaceutical Sciences, Cosmetic Science, Medicinal Chemistry, Pharmaceutical and Biopharmaceutical Formulations, Pharmacy, Drug Discovery, Biomedical Science and Healthcare Science will find the publications in this database especially useful.
You can also search for individual journal titles available through ACS from the library homepage by clicking on Journal Titles and entering the name of the journal you are looking for.
As an example, searching for the Journal of Natural Products will give you 2 options for access. If you are looking for the most recent publications click on ACS Publications. This will take you through to the journal homepage where you can browse the archive of online issues or search by keyword, subject, author etc. within that journal.

If you need any further help with accessing the ACS database or searching for journal articles please get in touch via Library Chat or email at library@sunderland.ac.uk