Spotlight on Nursing Journals: Week 3 Nursing Times
The University Library has subscriptions to numerous nursing journals that will help you with your wider reading and research for assignments. You'll find articles from all of the journals featured in this series of blogs when you use Library Search but you can also browse each publication on its own by following the instructions below.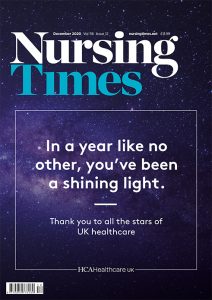 Nursing Times is an invaluable monthly publication containing articles, opinion and news on nursing and healthcare policy and practice.
The University Library subscription to Nursing Times allows staff and students full access to the current issue, online content as well as the digital archive.
The University Library subscription to Nursing Times works in a slightly different way to most of our other databases. Articles and content from Nursing Times can only be accessed through the Nursing Times website and you will need to register for an account before you can access any content.
To register for access to Nursing Times through the University of Sunderland subscription:
Go to the Library homepage: https://library.sunderland.ac.uk/
Click on the Journal Titles button
Search for Nursing Times
Access the Nursing Times website using the link  that says 'Click here to register the first time you use Nursing Times'.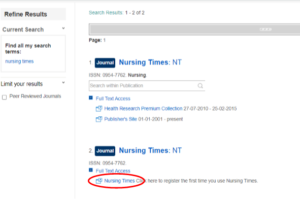 5. Register for your Nursing Times access using your University of Sunderland email address
Once you have set up your account you will have full access to the website and digital archive. Just remember to log in using the details you created when following the registration process every time you visit the webpage https://www.nursingtimes.net/
To watch a short video for full instructions on how to set up your account CLICK HERE
If you are searching for articles directly from Library website any content from Nursing Times may appear to be unavailable. When this happens you will need to log on to your Nursing Times account and search again for the article.
CLICK HERE to watch a short video that explains how to do this.
To read Week 1:  Journal of Advanced Nursing CLICK HERE
Week 2: RCNi Publications CLICK HERE
If you need any further help with accessing Nursing Times or searching for journal articles please get in touch via Library Chat or email at library@sunderland.ac.uk