Recent articles from the British Journal of Special Education
This well-established and respected journal covers the whole range of learning difficulties relating to children in mainstream and special schools. It is widely read by nasen members as well as other practitioners, administrators advisers, teacher educators and researchers in the UK and overseas.
The British Journal of Special Education is concerned with a wide range of special educational needs, and covers all levels of education pre-school, school, and post-school.
The journal places particular emphasis on:
Innovative practice in special educational needs and inclusion
Disseminating information on practitioner enquiry and research into best practice
International, national and local policy and practice
If you want to browse all the articles you can either follow the link below or search on Library Search (via the Library web page).
Volume 47 Issue 3 (2020)

Here are a couple of the articles in this issue.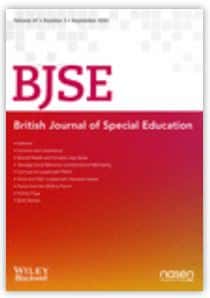 Tyrrell, Beverley, and Kevin Woods. "Gathering the Views of Children and Young People with ASD: A Systematic Literature Review." British Journal of Special Education, vol. 47, no. 3, Sept. 2020, pp. 376–98.
---
Hartas, Dimitra, and Ahmet Kuscuoglu. "Teenage Social Behaviour and Emotional Well‐being: The Role of Gender and Socio‐economic Factors." British Journal of Special Education, vol. 47, no. 3, Sept. 2020, pp. 329–49
---