Kate Greenaway – Illustration award winner 2020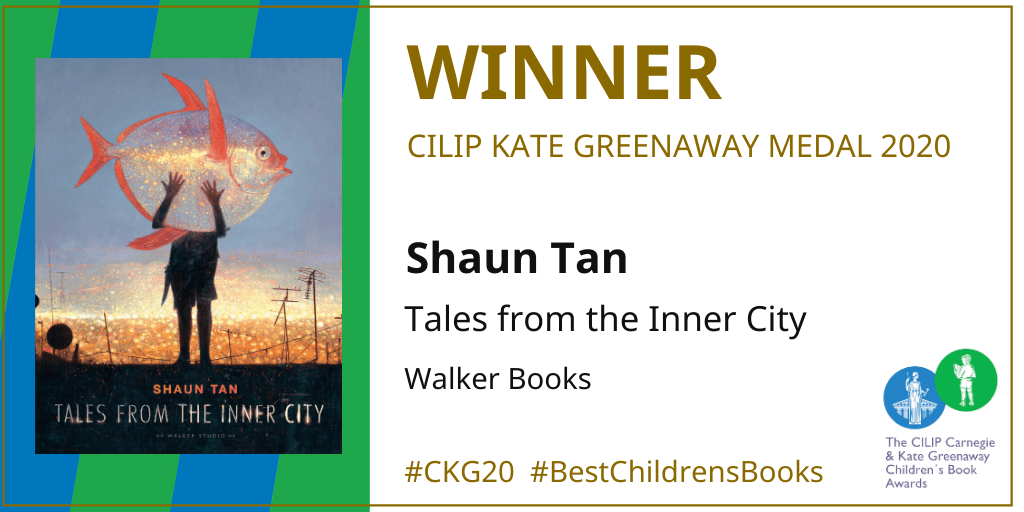 The winner of the 2020 Kate Greenaway medal is Shaun Tan for 'Tales from the inner city'. This award is judged by children's librarians for an outstanding book in terms of illustration for children and young people. Here are some extracts from the announcement of the winners:
"Australian author and illustrator Tan, who is of Australian, Chinese and Malay heritage, is the first illustrator of colour to win the Kate Greenaway Medal. Tales from the Inner City is a sister volume to Tan's 2008 anthology, Tales from Outer Suburbia.  He has worked as a theatre designer, a concept artist for animated films including Pixar's WALL-E and directed the Academy Award-winning short film, The Lost Thing in 2011. In the same year, Tan received the Astrid Lindgren Memorial Award, honouring his contribution to international children's literature."
Shaun Tan said, "I am surprised, delighted and then deeply honoured – what a wonderful thing to be! I am especially thrilled to receive the Kate Greenaway Medal in the fine company of so many brilliant artists and authors, many of whom inspired my own love of illustrated stories as a young West Australian scribbler."
Full details about the awards and what it means to the winners is available on the CILIP Carnegie and Kate Greenaway web pages.
[Image used with permission of CILIP]