Accessing JStor from off campus
We have heard a few students and academics say that you're unable to access JStor from off campus. We are looking into this as a matter of urgency. Strangely, some staff members have no trouble accessing all of JStor's content and some of us cannot. Here is some guidance which will give you the best chance of accessing JStor off campus and how to troubleshoot any issues you may be having, as well as how to get access to everything you need while social distancing requires us to keep the library buildings closed.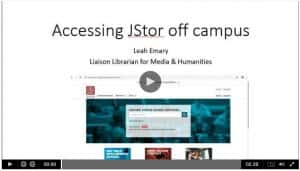 Here is a 3 minute video guide to accessing JStor while off campus.
If you would prefer to see this in writing, here is the same information but in text.
Before you start your session searching JStor, it's best practice to log into the university's proxy. You can do this by starting from the library's homepage and clicking on the Journal Titles button on the right hand side. You will be prompted to enter your usual user name and password. Keep that browser window open.
Open a new browser window and go to the library's home page again.
Click on the Databases A-Z link on the right hand side of the page. This takes you to a list of all databases the library subscribes to. Click on J from that list and then Select 'JSTOR Arts & Sciences I Archive Collection'. 
There are other ways to access JStor while off campus but I find this way works best. If this does not work for you, you could also try this.
If you're still not able to see the full text of items that you should, please follow these troubleshooting tips from JStor on 'clearing your cache.'
If you're still not able to access JStor's full text, please send the library an email immediately. Please let the staff member you're talking to know the full citation of the article, book chapter or primary source you need from JStor and they will work with you to get the full text to you.
And finally a bit of good news, JStor is making its full collection free to all subscribers for the duration of the coronavirus pandemic. This will enhance the University of Sunderland's access and should make your research go a bit quicker while you're at home. More information from JStor is here.
We're all learning very quickly during this time, and so if any of this is unclear or you're uncertain how to proceed, why not make an appointment with Leah Emary, your liaison librarian. I can talk to you about your research needs, help you locate ebooks, navigate JStor or other electronic databases.