New books on racial representation on screen
in 2019, students told us they wanted to see more books in the library on racial representation on TV and film. This topic is one that we library staff want to see more resources on as well! This blog post is a chance for me to tell you about what I've bought for the library collection recently and also about some ways you might look for what we have already. If you would like us to buy something in this area which we don't already have, please fill in this form to make the purchase suggestion.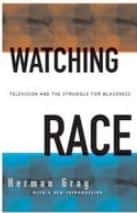 It's difficult to disentangle race from other identities so this list does include some titles about representations of disability, sexuality, gender identity and class as well as race in the media. Selected books purchased in the past 2 years:
Susan Smith, Associate Professor of Film Studies, recommends that students start with Donald Bogle's two books
For books on the concept of 'racial representation' , a good place to start would be with bell hooks' Black looks: race and representation and the chapter on racial representation in Tina Patel's Race and society.
Though it's not focussed solely on racial or ethnic representation, Stuart Hall's classic book Representation might be a good place to start with understanding what 'representation' means.
When doing research on a topic like racial representation, depending on which aspect of this topic you're interested in, you might need to change the words that you search with. You might be interested in a certain type of media when you're searching: so consider using words like newspapers, film, cinema, television, TV etc. Don't forget about using alternative words to describe the same media like: film, cinema, motion picture, video.
Similarly, you might consider using as keywords specific racial, religious or ethnic group names like Sikh, Black, Afro-Caribbean, Muslim, Asian and so on. Consider whether you're only interested in one geographic context like Great Britain or whether you would be interested in exploring racial representation in the media in other countries, such as Bollywood, Nollywood and Hollywood, as well. This will impact on which words you use to search.
Sadly, the language that library workers have used in the past and sometimes still continue to use to catalogue and organise our book collections is hurtful and reductive. This means that library cataloguing has reflected and reinforced structural racism and continues to do so. Fortunately, we are able, in many cases, to change the words we use and which classification code we use on our books and in our catalogues. If you see something that's not right in the catalogue or you take issue with where you're finding (or not finding) your books, please come see me so we can talk about doing better.