Are you interested in printmaking? Check out Laura Boswell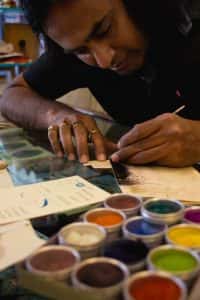 Laura Boswell is a printmaker working exclusively with linocut and traditional Japanese woodblock printing.
When researching artists it's a good idea to consult a range of resources about them to help develop your critical knowledge and understanding.
Check out the following library resources about Laura and her work:
Boswell, L. (2019) Making Japanese woodblock prints (new book just arrived in the library)
Explore the 'Ask an Artist' podcast for a weekly dose of arts advice – new posts are published on Fridays at 10am (GMT)
Keep an eye out in the library for the January 2020 issue of Pressing Matters, which features Laura.