Individual consultations with your Academic Liaison Librarian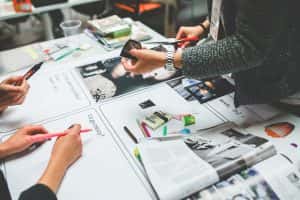 Last academic year as part of our Big Talk Campaign, we asked students what they'd like help with. A number of design students expressed a wish for help with research for their Final Major Project. We helped those students and wanted to share the tips to help you as well!
The library workshops our design students have in the first year (for THD104) and second year (for THD203), as well as the library lecture given as part of the dissertation module (THD300) all equip you with research skills you can use for your other modules.
Finding books using the library catalogue to give you the broad context and background information, and using Discover, the library's search engine, to find journal articles about the specific topics you're interested in are really important. You can also check out the subject pages for art and design to explore more subject-specific resources.
Explore our online study skills guides for advice on doing effective library research including:
identifying academic sources
searching for journal articles
tips and tricks for advanced searching
evaluating what you find
If you'd like more assistance in searching for, and finding, relevant resources for your research, you can book an individual consultation with your Academic Liaison Librarian.