Social Sciences Research Makers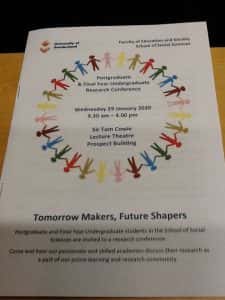 On 29 January the School of Social Sciences hosted its Postgraduate and Final Year Undergraduate Research Conference in the Sir Tom Cowie Lecture Theatre.
The conference included our academics as well as PhD and undergraduate research presenting their research findings.
If you are currently researching for a work-based project or dissertation then we have a range of materials to help you.
If you're writing your undergraduate dissertation then it's worthwhile visiting our Dissertation Support guide which helps you evaluate your sources and avoid plagiarism. In addition we recommend taking a look at the Improve Your Research Skills area as there is a very handy guide Tips and Tricks for Advanced Searches which gives you all the librarian tools of the trade for getting more precise and comprehensive search results (Boolean logic, phrase searching and truncation). Don't forget you can book a 1:1 if you get stuck and need some advice on searching for material to improve your search results for example.
The undergraduate material above is also handy if you're doing postgraduate research and have recently returned to study. If you're a PhD researcher you can request a research buddy who will be matched to your topic. If you'd like to take advantage of this complete our Support During Your Research online form. You can meet as frequently as you like. We've created a dedicate set of pages Support for Researchers which helps you:
unpick previous research on/related to your topic.
set up alerts to keep you up-to-date about your subject.
get in contact with other researchers in your field.
find out about services our library provides for you.
promote your research findings.
look for research funding.
Last but not least our Study Skills Drop-ins and dedicated Dissertation Drop-ins are also spaces where you can ask for advice. Always check the Study Skills Events page for the latest events and times.