Creative Lives – 4th February – Theresa Poulton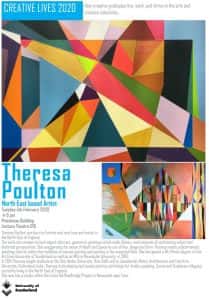 Creative Lives 2020 – how creative graduates live, work and thrive in the arts and creative industries.
This week's talk on Tuesday 4th February is by Theresa Poulton, a north-east based artist, whose paintings are hard-edged, abstract and geometric, making illusory environments of contrasting colour and distorted perspectives.
Her talk will take place in the Priestman Building Lecture Theatre 015 at 4.00-5.00pm.