Investigating the Harvey Weinstein investigation and #MeToo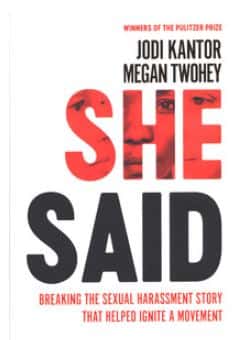 Last year, students told us they wanted more books on investigative journalism. One investigative journalism book we've recently ordered is the Pulitzer Prize winning "She said: breaking the sexual harassment story that helped ignite a movement" by Megan Twohey and Jodi Kantor. These are the authors who first uncovered and reported on the Harvey Weinstein scandal and whose work, along with the work of many others', ignited the #MeToo movement. This book takes an in-depth look at the social, cultural and historical context of #MeToo, both good and bad. As the Guardian review puts it, "Painstakingly researched, their account is less interested in Weinstein the Monster than the structures that enabled him to flourish."
Writing about recent and ongoing events is exciting, and students from across a variety of disciplines may be doing it. Scholarly literature cannot always keep pace with the times, however, and finding books on
emerging topics can be difficult because the scholarly writing and publishing process is slow. If you're not able to find what you need from Twohey and Kantor, have a look at the journal literature. An advanced search in Discover using keywords such as #metoo and "harvey weinstein". In my example to the right, I only want to read the article if it was 'peer reviewed,' because I was interested in seeing what the scholarly literature's take is. Ironically, a search like this would filter out the original article that Twohey and Kantor wrote in October 2017 for the New York Times where they broke the story. For more ideas on how and where to do newspaper research, have a look at this guide.
As you can also see in the image on the right, I  am only going to get articles where those keywords appear in the abstract, which is a way of filtering out articles which may use my keywords somewhere in them but aren't necessarily focused solely on my topic. This can be a risky strategy for a variety of reasons, but is worth a try if you're getting too many results.
The book is currently on loan, but a few more copies are on order for our collection. Meantime, you can place a reservation on it by logging into your account.