Performing Arts academic awarded for excellence in teaching and learning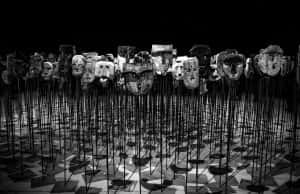 Sunderland academics stepped onto the stage this week to collect their awards after being recognised in the National Teaching Fellowship Scheme and the Collaborative Award for Teaching Excellence.
The awards, hosted by the Higher Education Academy, last night in Manchester, recognised learning collaborations that capture creative, innovative practice and benefit the student experience.
The University of Sunderland's Dr Adelle Hulsmeier and Nicholas Glean, in conjunction with Northumbria Police and their Sexual Assault Referall centre, Michelle Sheridan and Julie Tekkin, have won a Collaborative Award for Teaching Excellence (CATE) – a hat-trick for our Faculty of Arts and Creative Industries), which has twice before received the national accolade.
The CATE project plays an important role within the University and beyond. Led by Dr Adelle Hulsmeier, it represents a unique collaboration between our drama and media production teams, Northumbria Police and various organisations involved in supporting victims of crime.
Part-funded by the Police and Crime Commissioners Community Fund the project allows students studying both drama and media production to work on a live client brief, enabling them to gain practical experience and important skills to promote employability. The project has been running for the past six years – more than 500 students have taken part in the production of 23 films on a variety of serious crimes.
[Text provided by University of Sunderland]