A-Z of Referencing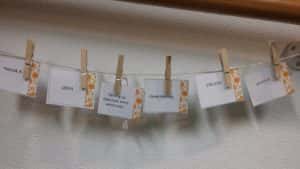 This week's skills session for year 1 BSc Criminology students focused on the fundamentals of referencing – what it is, why you need to reference, what you need to reference and how you reference it. At the University of Sunderland the School of Social Sciences uses the Harvard referencing style.
As usual we made the session as interactive as possible so as a student you would spend time working in pairs or small groups discussing the whys and wherefores and creating a list of material you thought you would need to reference at university which went from journal articles, websites and books to lecture notes and legislation. We also discussed how social media such as tweets, blog post or even more visual material like film or images would be types of material you would reference too.
Here is a photograph of the referencing washing line the Criminology students used to peg up the references they created for a journal article, book and a website. Each of the items pegged contains one of the elements that make up a reference eg author or title: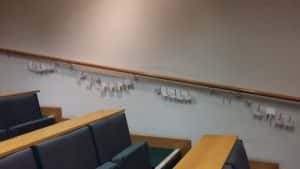 Referencing can be fiddly. The tricky part is getting the different parts of the reference in the right order. To make it easier we offer you access to Cite Them Right Online which is basically an online version of the paperback book by Richard Pears and Graham J. Shields. It gives you all the advice you need plus it explains how to cite a reference in the text of your essay (which we call in text citation) and how to list it in a reference list or bibliography.
What is particularly useful about the online version is that there is an area on each page that explains how to reference a particular format of material where you can practise putting the elements of your reference in the order to conform with the Harvard style. Once you have done that you can email it to yourself so it's easily pasted into your essay. If Cite Them Right Online is new to you we have an introductory video for you to watch. Then you will find a link to Cite Them Right Online on the same page. Do remember that you will need to log into Cite Them Right Online when you are off campus.
Did you know that eBooks also have options to get the reference details you need through the Cite button? In the example below we've clicked the Get Citation button on an eBook Central eBook

As you progress through your course you will find that journal articles on the Discover service also give you the chance to click on Cite so you can easily get the elements you will need for your reference in a click. We've clicked the Cite button on Discover to get the reference details we need for this ejournal article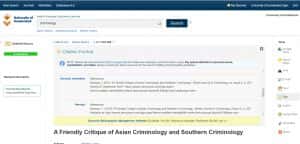 A good tip when you try this is to make sure you pick the UK Harvard style.
We recommend you make notes of what you have have read with the essential components you will use to build your reference as you go. We know it's easy to return material you've borrowed from the library and forget to write the details down for your reference list or bibliography. Fortunately you can use the My Account facility on our catalogue which lists books you have borrowed and returned. Just to the library home page then click on My Account and login. Then select Loan History from the tabs to see what you have borrowed: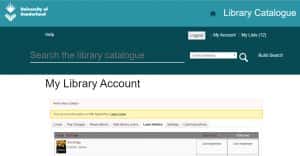 To bring this all together for you and find out how you can take your referencing further take a look at our Reference guide. The guide also tells you about software like Endnote and Zotero which you can use to sort your references and create bibliographies. Both are effective tools to use when you start doing more research.
You might also find our handy study skills guide on Writing an Academic Essay useful as it explains all the ingredients you need for you first essay – including references.
If you get stuck with your referencing and need help then use the Chat box on our library home page 24/7 or come along to one of our Study Skills Drop-ins either on Tuesday from 1-4 pm at Murray Library in the Study Skills Room or Thursdays 10am to 1pm at St Peter's in the Study Skills Suite.