New books for Journalism of all kinds
The university invested massively in new books last year, and in order to make sure we got the things you really need, we asked for your suggestions of what subject areas to focus the money on. One of the areas that Media students are particularly interested in is in Journalism. Whether you're interested in Magazines, Fashion Journalism, Broadcast Journalism, or the public relations and social media aspects, we have been buying whatever is out there. A selection of our newest books (with links to the catalogue) can be found here:
New Editions of your Essential Core Texts
Burum, I., & Quinn, S. (2016). Mojo: The mobile journalism handbook: how to make broadcast videos with an iPhone or iPad. New York: Focal Press.
McKay, J. (2019). The magazines handbook.
Lee-Potter, E. (2017). Interviewing for journalists (Third edition). London: Routledge.
Bradshaw, P. (2018). The online journalism handbook: Skills to survive and thrive in the digital age (Second edition). London: Routledge.
Morrison, J. (2017). Essential public affairs for journalists (Fifth edition). New York, NY: Oxford University Press.
Quinn, F. (2018). Law for journalists: A guide to media law (Sixth edition). Harlow, United Kingdom : Pearson
New Journalism Books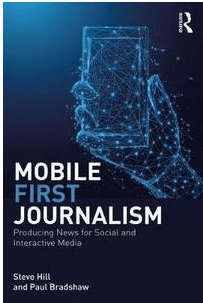 Media History
Media Ethics
Sports Journalism
Public Relations & Social Media for Journalism
If you're interested in other recommended titles for Journalism, have a look at these module reading lists as well.
And, as always, your librarians keep a list of everything which has been added to the library collection for the past three months across the Faculty of Arts & Creative Industries.