Northern Lights: Scottish Enlightenment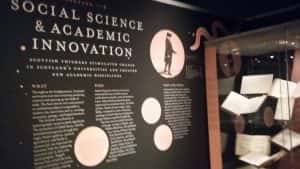 If  you're studying arts, language and literature, social sciences or science and medicine you'll be interested in a free exhibition Northern Lights: Scottish Enlightenment – Ideas that Shook the World which focuses on key figures in Scotland during the 18th century.
The exhibition runs until 18 April 2020 in the National Library of Scotland in Edinburgh and includes a free city map which you can use to follow the paths of famous Enlightenment figures like Adam Smith (economist) known for his ground breaking book on economics The Wealth of Nations. The exhibition includes rare books, letters and ephemera for example letters by the poet Robert Burns and James Watt's Guide to Steam Engines.
You can learn about the history behind the Scottish Enlightenment marked by the beginnings of the National Library of Scotland as the Advocate's Library on the Pre-Enlightenment Scotland page. The exhibition also includes women like Alison Cockburn who was also a writer and knew many of the personalities and wrote about them in her letters.
If you are interested in finding out more about key players including and the sources and publications attached to them teak a look at the The Scottish Enlightment interactive resource.
The exhibition opening hours are:-
Mon Tues Thu 0930-1900
Wed 1000-1900
Sat 0930-1700