Refugee drawings exhibition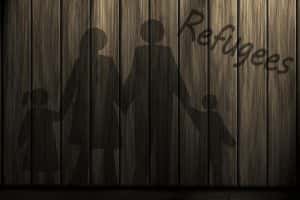 Are you an artist or illustrator?
Are you concerned about the refugee crisis?
Then head to Sunderland's Winter Gardens to see the current exhibition on display – Journeys Drawn: Illustration from the refugee crisis.
This is a rare opportunity to see the UK's first exhibition to explore the refugee crisis through illustration.
Suzie, our art and design librarian, went to see the exhibition and was really inspired by the art work and challenged by what she saw.
The exhibition features 40 multi -media works by 12 contemporary artists, two of whom are themselves refugees.
Illustrators have the unique opportunity to act as visual journalists, spending extended periods of time in situations where photography is often banned or too intrusive.
[Text based on information from Sunderland Culture]
If you're interested in this subject, check out the books we have in the library on refugees and asylum seekers.