21 years of the National Glass Centre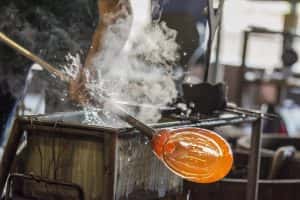 To celebrate 21 years since National Glass Centre opened to the public in Sunderland, we have gathered a panel of curators, academics and artists to reflect on the work of the centre, its cultural, educational and social impact to date and to dicusss the centre's future potential.
We welcome everyone to join us  on Thursday 13th June 7.30-9.00pm – National Glass Centre, Sir Tom Cowie Campus – as we mark this great milestone with this lecture, alongside other events taking place as part of the NGC21 celebrations.
Chairing the discussion will be Professor Kevin Petrie, Head of School of Art and Design at University of Sunderland
Panelists are:
Emma Woffenfen – highly acclaimed mixed media sculptor who has trained extensively in glass making techniques
Julia Stephenson – Head of Arts at National Glass Centre and curator of the NGC21 exhibition
Dr Jeffrey Sarmiento – Associate Professor at University of Sunderland
Dr Erin Dickson – Artist
This is a FREE event but you need to book tickets in advance.
[Text sourced from University of Sunderland news page]