Need advice? Come to our Study Skills Drop-Ins!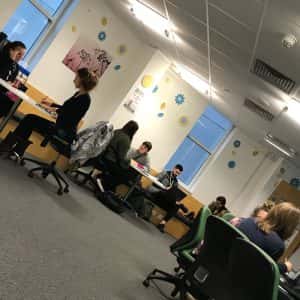 With weekly Study Skills drop-in sessions taking place at both the Murray Library and St Peter's Library, there are now more opportunities than ever before to get advice on your academic skills! Drop-ins are great for when you have a quick question as there's no need to book in advance – just turn up and speak to an adviser.
Here are some tips to help you make the most of Study Skills drop-ins:
Be specific – As drop-in sessions can sometimes be quite busy, we allocate 10 minutes to each student. To get the most from your 10 minute slot, make sure you think about a specific issue you would like to focus on. If you think your question may take longer than 10 minutes, you may wish to book an hour long one-to-one session instead.
Come prepared – Have your work ready in advance, as well as any other relevant documents such as your assignment brief, module guide etc.
Don't worry if we're busy – If you turn up and there's a queue, you can always put your name down to reserve a slot later in the session and come back then.
If you'd like to come along to a drop-in, we're at the Murray Library every Tuesday afternoon from 1-4pm and at St Peter's Library every Thursday morning from 10am-1pm.