Finishing Your Dissertation
After months of hard work, it can feel like a relief to finally put the finishing touches on your dissertation and get it ready for hand-in. However, it's important to make sure you leave time for a few final checks to make sure your work is as perfect as possible:
Avoid Mistakes – Proofread!
Proofreading can sometimes feel like a chore (particularly with something you've been working on for almost a year) but it's an important step. With a dissertation, it can be helpful to take a break between proofreading each section to make sure you don't lose concentration. Also, make sure you proofread a printed copy of your work as you're more likely to skim read when looking at a screen.
When proofreading, make sure you check these three areas:
Your grammar, spelling and punctuation
Reading your work out loud can help to check grammar and punctuation, particularly if you have a tendency to write long, complex sentences. If you find yourself struggling for breath halfway through a sentence, this is a good sign that you need to break it up into shorter sentences.
Your argument & structure
Check that there is a logical flow from one section to another – is it clear that you chose your methodology based on the findings of your literature review? Does your conclusion answer the questions posed in your introduction? Does your discussion section engage with the debates you identified in your literature review?
Your presentation
Double check that you have correctly cited all of the texts you have used and that they are all listed in the reference list in the correct format (check Cite them Right for help with this). Also make sure you have included a title page, a contents list and all relevant appendices (look at your module guide for advice on what should be included).
Leave enough time on hand-in day
It can take up to two hours to print and bind your dissertation (particularly at busy times such as hand-in day) so don't leave this to the last minute. If you're handing your work in at the library you will also need to fill in a cover sheet so you may wish to pick one of these up from the library in advance to minimise any delays.
Reward yourself!
Completing a dissertation is a huge achievement so make sure to reward yourself, celebrate with your classmates, or just (finally) take some time to relax!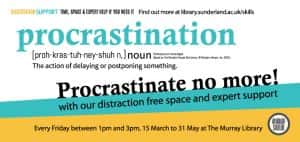 Remember, if you'd like some distraction-free time to work on your dissertation, come along to the Info Skills Room on Friday afternoons between 1-3pm. Study Skills advisers will also be there to help with any questions you have.