New Journal: Hospitality & Society
The Library have bought a new journal for Tourism, Hospitality and Events recommended by your lecturers called Hospitality & Society
What is the focus of the journal?

"Hospitality & Society is an international multidisciplinary social sciences journal focusing upon hospitality and exploring its connections with wider social and cultural processes and structures."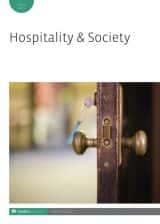 The first issue of 2019 has just been published and the articles include research on ethics and global citizenship in the tourism industry.
[Editorial]
Connecting the dots: Ethics, global citizenship and tourism by Hermann, I.; Weeden, C., and Peters, K.
[Articles]
Narratives of global citizenship, ethics and tourism: a Danish perspective by Barker, H. and Dredge, D.
Cruising with(out) a conscious? Sustainable discourse in the blogosphere by Römhild-Raviart, J.; Weeden, C.; Jarvis, Nigel; Pantelidis, I.
Harnessing empathy in Hospitality and tourism: are conversations the answer? by Zamanillo T,; Lourdes L.; Cheer, J. M.
Volunteer tourism and the eco-village: finding the host in the pedagogic experience by Prince, S.
How do I access Hospitality & Society?
When you do a search for journal articles on the library web page you will automatically be searching Hospitality & Society along with all our other journals. If you want to go straight to Hospitality & Society to browse only this journal you can use the Journal Titles link on the library web page. Click here to download a guide about finding journal titles.

What years are included in the subscription?
The Sunderland subscription begins in 2019 so Volume 9 issue 1 is the first issue with full text, and all future issues will be available in full text.
Can I access older articles from this journal (published before 2019?)
You can browse the table of contents and read the abstracts of articles published in Hospitality & Society prior to 2019. If you want the full text of older articles you can request an interlibrary loan.
If you've got a question about library resources or anything relate dto the library or study skills you can contact us via LiveChat  or send us an email library@sunderland.ac.uk