Spotlight on Hospitality 2019 – Report from the Institute of Hospitality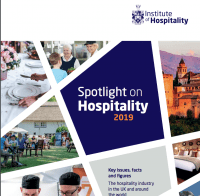 All students on tourism, hospitality and events programmes at the University of Sunderland are able to to join the Institute of Hospitality for free because the University of Sunderland is an educational member.
If you're a first year undergraduate you will more than likely have joined as part of TLH123 (in the Library session). For all other students, if you've not joined the institute of hospitality you can get in touch with your liaison Librarian –  Leanne Young (leanne.youngsunderland.ac.uk) for the university login details or check your facebook group where we will also post the information.