National Poetry day – Read a poem a day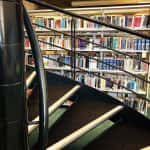 National Poetry Day is a chance for everyone everywhere to read, share and enjoy poetry.
Poetry can be a way of children and adults reading and accessing vocabulary which they have not explored much before.
Resources for teaching poetry can be found here https://nationalpoetryday.co.uk/education/
From modern poerty to Shakespeare there are a range of resources to use all year round.  The Shakespeare Schools Foundation have a Lesson Plan on Shakespeare's rhythms and get into writing Iambic poetry!
Within the library we have a variety of books and journal articles on teaching poetry including these below:
Medwell, J. (2018) Primary English: knowledge and understanding, Los Angeles: Learning Matters
Davison, J. & Daly, C. (2014) Learning to teach English in the secondary school: a companion to school experience. London, Routledge
Brgcjley, A. (2017) 'Developing children's critical response to poetry', English 4–11, Issue 60, p3-5.
We also have a wide range of poetry too.  Including reflections in poetic form  dealing with the real life-worlds of professors, instructors, lecturers, teachers, and others working in education.
Teaching as a human experience: an anthology of contemporary poems(2015) Cambridge Scholars Publishing